... mischevious flaneur, epic sentimentalist and grandiose fibber...
Simple Girl
is a one woman trans-European adventure, that trips from glamorous intrigue through macabre curiosity to the lonely flight of lost love and a yearning to be something more, to be someone else. Set in a delicately eccentric world, perilous tales and touchingly humorous confessions are intricately woven together with minutely observed physicality and a live soundtrack, performed on stage with a sampler and vintage microphone. Part coolly seductive femme fatal, part mischievous confidante, Melanie's idiosyncratic character conjures scenes of iconic cinematic imagery with gorgeous intrigue and pathos, sharing a uniquely personal relationship with an audience that are part co-conspirator, part prey.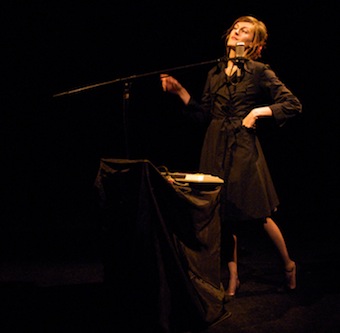 Taking form during the LabCulture London sound residency in 2004,
Simple Girl
was developed through 2005 in performances at Resonance FM, Live 05 at The Chelsea Theatre, Burst festival at Battersea Arts Centre and the Spice festival and Life Affirming Joyride Festival at The Hackney Empire. It has gone on to appear at the Latitude music festival, Turtle Salon at Chelsea Art Space, the Shunt Vaults and Galapagos Art Space in New York.
Simple Girl
ran at the Edinburgh Fringe in 2007, for which it was co-directed by Emma Benson to critical acclaim. It went onto appear at the Dublin Fringe Festival where it was nominated for the Spirit of the Fringe Award and the Best Actress award. In Spring 2009, Simple Girl completed a U.K tour.
'One of the great new "all-rounder" talents in British theatre.'
Kultureflash
'Give this girl an audience and make her a star.'
The Herald
'Just occasionally you come across a show on the fringe that's innovative, startling and ever so slightly indefinable. For me, Simple Girl is it.'
The Scotsman
'Simple Girl is highly original, individual and compelling …the warm audience response to this cool and poised show was much deserved.'
The Stage
'Complete genius of a one woman show!'
Audience review, Edinburgh festival 2008
photograph: Ed Collier & Regine Rack