Adapted from Rebecca Watson's novel,
little scratch
is a fearless and exhilarating account of a woman's consciousness over the course of 24 hours. The charged narrative records in precise detail her impressions of a deceptively ordinary day - the daily commute, office politics and a constant barrage of texts on WhatsApp – and as the day goes on, she gradually starts to unveil the trauma of a rape that is consuming her. Premiered at Hampstead Theatre in November 2021 and re-mounted at New Diorama Theatre in April 2023.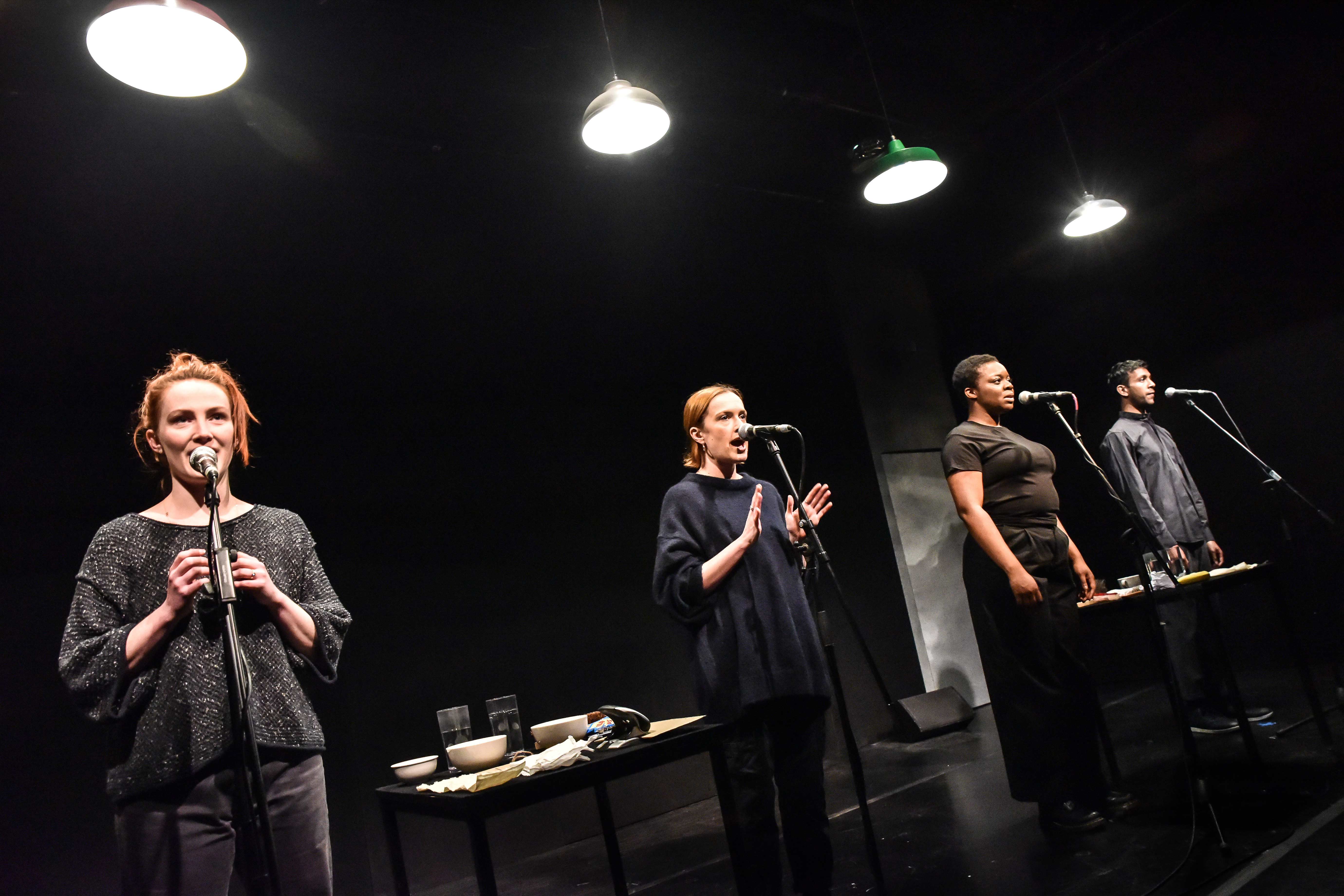 Directed by Katie Mitchell,
Sound score by Melanie Wilson
Adapted by Miriam Battye
Lighting by Bethany Gupwell
Cast (Hampstead):
Morónkẹ́ Akinọlá, Eleanor Henderson, Eve Ponsonby and Ragevan Vasan.
Cast (New Diorama):
Eve Ponsonby, Eleanor Henderson, Rebekah Murrell & Ragevan Vasan.
Press:
'Melanie Wilson's hugely imaginative sound score provides an ambient backdrop, the hubbub carefully graded with acoustic effects.' The Times
'There's a symphonic musicality here, in the intertwining rise and fall of the words, and in Melanie Wilson's soundscape, which blends woozy electro-thrum and weeping strings with the noise of city streets, commute or workplace. Beneath it all is the gnawing background buzz of trauma: the insistent, intrusive memory of violation that the woman chases relief from in compulsive scratching.' iNews'Melanie Wilson's elegant sound score throbs in the background, rising up at moments of tension.' Evening Standard
'A fifth character must be mentioned: the sound design by Melanie Wilson and team. This takes us, from the very first minute, to a space we can't quite identify, where an otherworldly hum is slowly penetrated by not-quite-normal sounds such as a distorted phone alarm. As we move through the character's day, this soundscape ebbs and flows, conveying the heightened danger of her relived trauma, the sinister tone of the rapist, the cooing of a naff poetry reading to which her boyfriend takes her.' The Arts Desk